The Avengers were created by Stan Lee and Jack Kirby in 1963, when Iron Man, Thor, The Hulk, Ant-Man, and The Wasp joined forces to battle Thor's evil brother Loki. After Captain America joined the team in Issue #4, the team went on to have a long career as Earth's Mightiest Heroes, regularly saving the Earth and occasionally the entire universe from villains such as Ultron, Kang the Conqueror, the Skrulls, and the Masters of Evil. They also expanded their ranks to include heroes such as Hawkeye, The Scarlet Witch, Quicksilver, The Vision, Ms. Marvel, Black Widow, and countless more.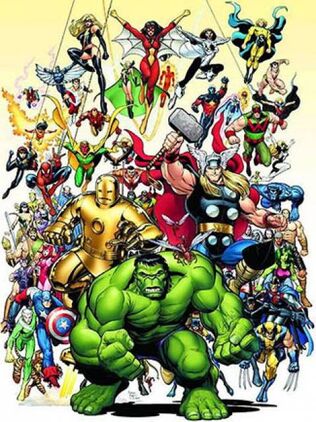 In 2004, the classic team of Avengers broke up, in the wake of the Scarlet Witch losing control of her powers and causing the deaths of The Vision, Ant-Man, and Hawkeye. A new team was formed in 2005's The New Avengers, written by Brian Michael Bendis, which kept classic Avengers Captain America and Iron Man, while also adding fan favorites Spider-Man and Wolverine, as well as Spider-Woman, Luke Cage, and The Sentry. That team persisted for several years, with Luke Cage taking leadership after the Civil War split the superhero community and Captain America was (briefly) killed. The New Avengers as they are now are set to disband in 2012, after which most of the members are likely going to be folded back into the main Avengers team.

While they've always been a fixture in the Marvel Universe, the Avengers have become more of a focus than ever since they achieved massive cinematic success in Joss Whedon's Avengers movie. There are currently four teams of Avengers: the standard Avengers with the classic lineup, the New Avengers led by Luke Cage, the black ops Secret Avengers led by Hawkeye, and the superheroes in training of Avengers Academy.

In Video Games
While members of the Avengers frequently appear in Marvel video games, the team itself has rarely been the focus until recently. The 1991 beat-em-up Captain America and the Avengers and the 1995 fighting game Avengers in Galactic Storm were the exceptions, giving the Avengers as a team the starring role. The Marvel Ultimate Alliance series had many of the Avengers as playable characters, and pairing them together would offer bonuses, but the team itself is put aside in favor of a larger, less formal coalition of superheroes that the series' massive cast required.

After the success of the Avengers film, Avengers video games have become much more prevalent, including the Avengers Alliance Facebook RPG, the Avengers Initiative iOS brawler (in the style of Infinity Blade), and the Kinect fighting game Avengers: Battle for Earth. There was also a THQ-developed first-person action game (simply called The Avengers) loosely based on the Avengers movie, but that game was cancelled before it ever saw release.