Al Simmons, a murdered government agent, came back from Hell to lead Satan's armies as a hellspawn, imbued with a living demonic suit of armour and incredible powers, but rebelled against the forces of evil and uses his dark power to fight for the side of good.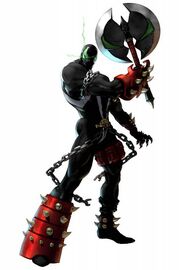 Overview 
Albert Francis Simmons was born in Detroit, Michigan. He became a highly decorated soldier in the United States Marine Corps, later joining the United States Secret Service, earning high marks there as well. Simmons saving the President from an assassination attempt got him promoted to the Central Intelligence Agency, where he was recruited into a high-level special forces task force. 
Al was suspicious of many of his group's actions, its director Jason Wynn sticking out the most, giving orders that involved the unnecessary demise of innocent people. Both men started to hate each other and Simmons planned to resign. As soon as Wynn learned about this, he hired an assassin, who killed Simmons.
Adding insult to injury, for the terrible deeds he'd done under Wynn's command, Al was sent to Hell, where after years of torture, he made a pact with the demon Malebolgia. He was reborn as a Hellspawn, in return for being able to see his wife Wanda one last time. Eventually, he rejected his intended role as General of Malebolgia's demonic hordes, and fought in defence of Humanity.
Other Spawns 
While Al Simmons is the "main" Spawn of the comic book series, TV show, film and toy line, there have been numerous other Hellspawns represented in each of those media. Some of those Spawns are:
Daniel Llanso (aka Curse of the Spawn)
Zombie Spawn
Pirate Spawn
She-Spawn
Viking Spawn
Undead Spawn
Dark Ages Spawn
Wolf Spawn (aka The Mangler)
Cyborg Spawn
Spawn The Impaler
Spawn The Immortal
Gunslinger Spawn
Samurai Spawn
"Manga Spawn"