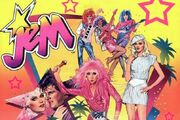 Jem & The Holograms is a 1985 musical drama animated televison show, It's about 21-year-old Jerrica Benton about to lose her father's company by her old friend Eric Raymond, Until Jerrica met a hologram, Synergy who gives her earing to summon any hologram to fool enemies. To stop Eric Raymond, Jerrica makes a alter-ego named Jem and with her friends and her younger sister, Together they were a band. But another band called The Misfits wants to ruin Jem and her band in the series.
Samantha Newark(Britta Phillips as singing voice) as Jem/Jerrica Benton.
Cathianne Blore as Kimber Benton and Aja Leith.
Cindy McGee as Shana Elmsford.
Linda Dangcil as Carmen 'Raya' Alonso.
Patricia Alice Albrecht as Phyllis "Pizzazz" Gabor.
Samantha Paris as Roxanne "Roxy" Pellegrini.
Susan Blu as Mary "Stormer" Phillips
Louise Dorsey as Shelia "Jetta" Burns
Townsend Coleman(Gordon Grody as singing voice) as Rory "Riot" Llewelyn
Ellen Gerstell (Vicki Sue Robinson as singing voice)as Phoebe "Rapture" Ashe
Kath Soucie as Ingrid(Same singing voice as Rapture's) "Minx" Kurger