A former nuclear physicist and atomic researcher, Otto Octavius' life changed forever when one of his experiments went horribly wrong. From that day forward, he has set out to prove his superior intellect in a number of ways, but these plans are usually thwarted by Spider-Man.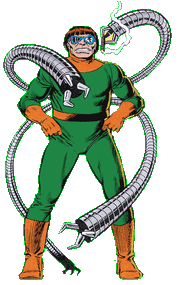 Origin
Otto Octavius was raised in an oppressive household, with an overprotective mother, and a harsh, abusive father. His mother encouraged the young Otto, already a good student, to push himself in school, in the hopes that he would have a better life than his factory worker father. Otto was awarded a scholarship for university, shortly before his father died in a workplace accident. Becoming obsessed with schoolwork after his father's death, Otto applied himself even harder to his studies in science. He graduated and got work with an engineering firm, soon becoming a respected nuclear physicist and research consultant, as well as working as an inventor and lecturer. He soon developed a remarkable invention- a chest harness that connected the wearer to four mechanical arms. This invention earned him a new nickname: Doctor Octopus. Around this time, he became involved with a fellow researcher, Mary Alice Anders, to whom he eventually proposed marriage. However, the happy couple was broken up by Otto's mother, who disapproved of the young bride-to-be. Otto broke off the engagement at his mother's behest, but she died soon after in the middle of an argument with her son. Having lost all of his social ties, Otto became more withdrawn and sullen, and grew obsessively dedicated to his work while simultaneously throwing professional and operational caution to the wind. This recklessness with his personal safety lead directly to an accident that would change his life forever. A radiation leak in the lab caused an explosion, which fused the harness and limbs onto his body. The radiation simultaneously caused mutations in his brain, allowing him to have direct control over the arms through telepathy. Driven insane by the accident and the damage it had caused to his body and mind, Doctor Octopus became dedicated to a life of crime.
Creation
Doctor Octopus was created by Stan Lee and Steve Ditko. He first appeared in "Spider-Man Versus Doctor Octopus" in The Amazing Spider-Man #3 in July 1963.